Zazzle 101: Improving Your Store's SEO with the 3 Ts
If you are a Zazzle shopkeeper (I guess you are because why else would you be here?) and serious about making your store another source of income, or your only income, then it's important to market and promote yourself outside of Zazzle. While you do make a fairly decent amount of sales through the Zazzle marketplace, you'll find that you'll start to see a huge increase in sales if you really focus on optimizing your store for the likes of Google, Yahoo and Bing.
Why? If you are familiar with Zazzle's marketplace you'll know that, like all places, there are shopkeepers who abuse the system and flood the marketplace with tat. It can take forever to find what you want, and you often get buried amongst a hundred shirts with the same design on! To combat this, you can use search engines to bring the customers straight to your products. You'll not only get regular Zazzle shoppers, but you'll find that you'll probably get new Zazzlers too!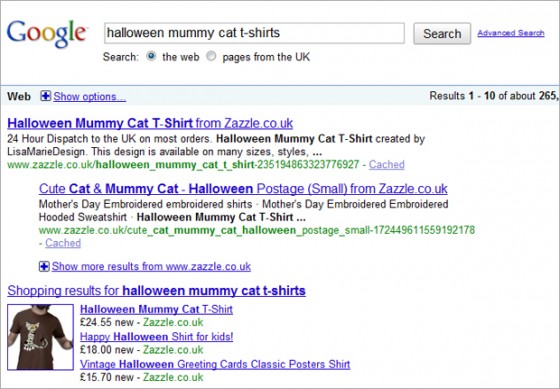 The image above shows Google search results for Halloween Mummy Cat T-Shirt. Nice huh? I haven't Photoshopped the image, my LisaMarieDesign store really does have the top slot on Google. Try it yourself. Search for the same thing (the words in bold) in Google. In fact, do Bing and Yahoo while you're at it. You'll see me on the first page of all 3 search engines. Getting there wasn't an overnight success. It takes weeks, months, before you start to see the fruition of your hard work but you will get there. Nobody said having your own business was easy!
The 3 Ts: Title, Description, Tags
Okay, okay. So description doesn't start with T but it does have one in there! Anyways, your product titles, descriptions and tags play an important role in getting good search engine results. They are there for a reason so you may as well use them correctly! How do you do that? Read on and I'll tell you.
The Title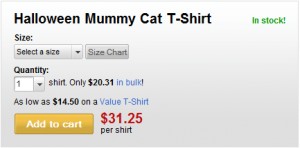 Ahhh, the title! The most important part of the 3 Ts. Search engines have a list of importance which they look at when determining page rank (where your page ranks in search results) and titles are way up their at the top of the list. Titles are always in a h1 tag which makes them VERY important.
You need to put as many keywords which relate to your product as you can in your title. DON'T spam your title and DO make sure it reads in a coherent manner. Keywords are words which people use to search for things in search engines. If you take my Halloween Mummy Cat T-Shirt as an example, you'll see that I have used the words; Halloween, mummy and cat. It describes the product, it makes sense, but most importantly, I've used words people are likely to search for.
It's a little more difficult when trying to SEO your titles for works of art rather than designs. Art usually comes with a name given by the artist and they can be pretty obscure! If you can't get the name of your piece of art and some descriptive keywords in that title, then demote it to the subtitle. It doesn't matter so much if the title of your art already contains keywords but if it's something obscure like Solitude, and the art is an elephant, make sure you get elephant in that title!
The Description
When trying to sell anything on the internet it's important to have descriptive words to accompany images, that's why it's called a description! Why? It's simple. Search engines like Google and Bing can't see images. Search engines don't have eyes so it's impossible for them to know that your red rose greeting card is the best greeting card on the planet unless you tell them.
You already have a head start at selling by being on Zazzle. Search engines visit Zazzle multiple times a day because the content is constantly changing. If you don't write anything in that description box however, the search engines aren't going to find much and are less likely to index YOUR particular page.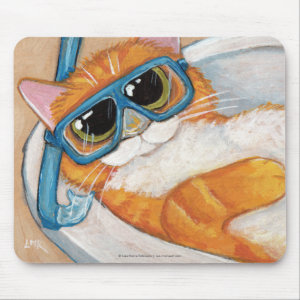 Utilize your product description to it's fullest from the get go. Describe your product as if you are explaining what you can see to someone who is blind.
The product you see on the left isn't just a Funny Cat Mousepad. It's – A ginger tabby cat wearing a blue snorkel while relaxing in a white sink. It doesn't have to stop there.
Include a sales pitch – Cat art mousepads make great gifts for the home or office of any cat lover! If your product is part of a matching set (eg, cards + postage) provide a link to the other product in the form of text, an image or both.
Click the snorkelling kitty to see how I've used my description.
The Tags
While tags DO help to increase your ranking in search engines, they are also used to increase your chances of a sale to customers browsing the Zazzle marketplace. If you use good tags, you'll get the best of both worlds. You'll be found easier in the Zazzle marketplace AND you'll increase your visibility in search engines. There are other factors which determine placement in Zazzle's marketplace. Some of them are Top Secret (of course!), but tags are a no-brainer!
Think about what a customer would search for in order to find YOUR product. If it's a magnet of a cute cartoon monkey you could tag it with:
monkey, magnet, cartoon, cute
This will work but you'll probably be on page 90 of 100. You need to use product specific phrases as well as single words. The key to tags is to target people who know exactly what they want. If you have tagged your monkey magnet with brown monkey you stand a far better chance of being found by someone who wants a brown monkey magnet as that will be their search. Someone who doesn't know exactly what they want will only search for a "monkey".
DO NOT, and I can't stress this enough, use irrelevant tags to try and boost your marketplace results, ever! Other shopkeepers loathe it and customers will leave at the frustration of not being able to find a cat magnet in an ocean of YOUR 'cat tagged' monkey magnets. You lose a sale, cat magnet people lose a sale, Zazzle loses a sale. You aren't doing anybody any favors and your products WILL be penalized by Zazzle and plummet to the bottom of their search pages.
Extra: The Subtitle
You also have an optional subtitle when filling in your product information. You don't have to use it but it is high on the search engine importance list. All of Zazzle's subtitles are contained within h4 tags. Not as important as the main title but they do still play a major role in page ranking.
One last note
Search engines like similarity. They look for words which are used in your title, description, AND your tags. If we go back to my Halloween Mummy Cat T-Shirt you'll see that the words; Halloween, mummy and cat appear in all 3.
I in no way consider myself to be an expert in SEO. I have merely carried out my own tests, noticed that certain things I have done have resulted in better search engine ranking, and I am now passing this knowledge on to you. REMEMBER, you will not see positive results overnight. It takes a while, but you will see the benefits eventually.